My baby was here from da 4th till da 10th.. lumayan 7 hari.. hehehe, went to bali, went to sneaker pimps, watched mario's game (Aspac VS SM).. we were fully scheduled! my comments? I had a reaaaaaaaalyyy great tym in bali, sneaker pimps was awesome!!, had a good tym w mario and virny too..!
So here's da story
met up w rick at da airport (i had a big hug btw hehehe :P was so happy to see him and as always i need a bit adjustment but it didnt take long.. felt so good havin him in my arms, havin him hold my hands n all that) and straight to bali, stayed at
THE OASIS
for the 1st nite.. we got there at nite.. so cudnt go anywer, it was low season too.. so at that hour places already closed (usually on hi and peak season it still opens till 12 or so).. da next day we woke up at 9, had breakfast then rent a car, went walkin n lil shoppin at legian, ate at warung made, checked out and off to our next hotel
THE ELYSIAN
, ohhhhhh mannnnnn this hotel is fookin niceeeee!!! was awesome stayin there.. fookin xpensive for me too.. gadamn it!!! thank God i didnt have to pay for it! it has private pool, has dvd player and internet broadband access..!!!!!! wudnt mind stayin there again.. (ya iyaaaaa lahhhh hahahaha), then went to kudeta then dinner at jimbaran.. ooo hahahhaa u sudve seen rick eat at jimbaran, like a mad man hahahahhaha gilaaaaaa banyak banget!!! menggila pula.. makannya.. hahahaha well i cant really blame da guy, sea foodnya enak banget!!! then we went back home and stayed there and watched mm get rich or die tryin..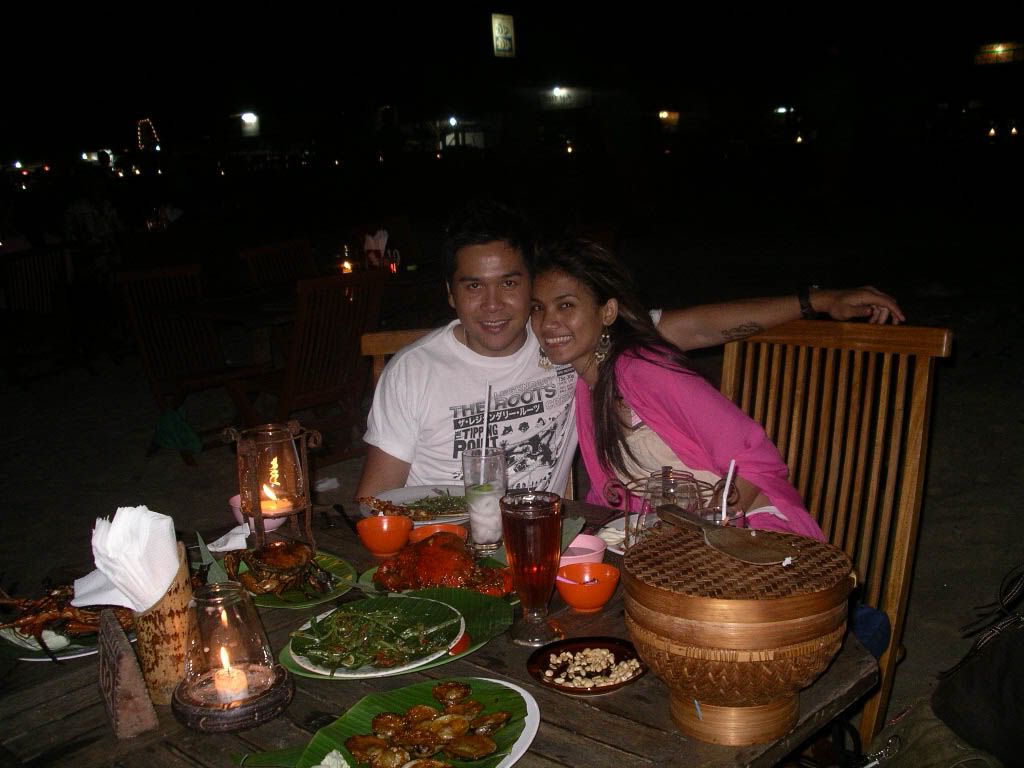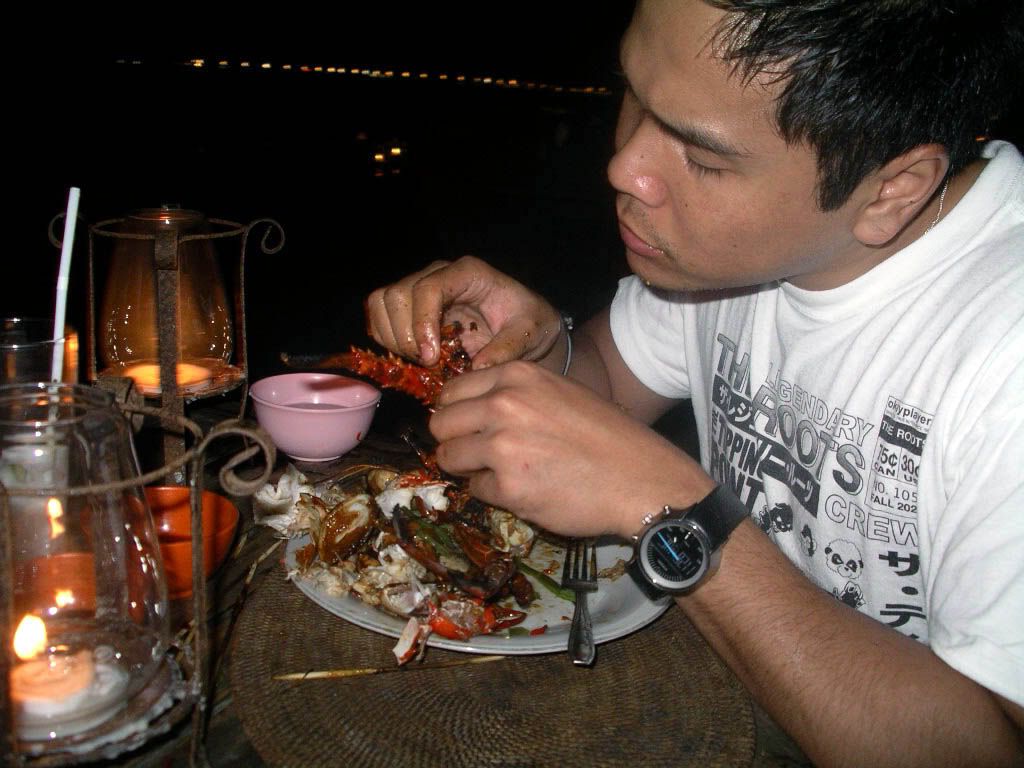 day 3
we went to dreamland, Gooooddd dreamland still takes my breath away, hmm bagus banget siy.. i once said i cud live like this forever wen i saw kudeta n dreamland for the 1st tym, yeap i cud.. we took a walk along the beach.. sun bathing a bit.. n took lots of pictures.. wanted to swim but da wave was high.. its raining season so der was water erotion, jadi ga berani.. secara g ga bisa berenang hahahahaha.. bt deh.. n lumayan kenceng gt ombaknya.. dan narik.. jadi i better stayed at my place aja yah.. cari aman cuy!
trus hahah i was lookin at this 2 guys, was wonderin if they're gay cuz they dont look gay but dey were 2gether.. one is young and ok built, one is old n fat.
fellma : "hey babe.. r they gay?"
rick : "hmm i duno"
and then i kept lookin at them from tym to tym, cuz der was nuttin else to do.. cuz i was sitting, enjoying my tym, eat, talk to rick, lookin at ppl, lookin at the beach.. and dey were next to us, on our right.. sooo i cudnt possibly not look at them. mm well ok i admit i want to kno too hahahaha.. trus there was a gurl passin by which is da gf of da guy on our left trus da old fat guy looked at the young one n gave sum kinda signal referring to da gurl, trus da young one gave an "nahhh i dun like her" face to him. so dey were checkin da gurls out! dey're not gay! then
fellma : hey babe.. u kno wat? dey're not gay
rick : how do u kno?
fellma : cuz dey were checkin da girls out, der were diz gurl passin by and bla bla bla
then we laughed hahahahahha gila ga ada kerjaan banget ga siy :P
then we went home, swim on our pool then shower and all.. dinner and met up w rick's friend at bakudapa n went back to our hotel..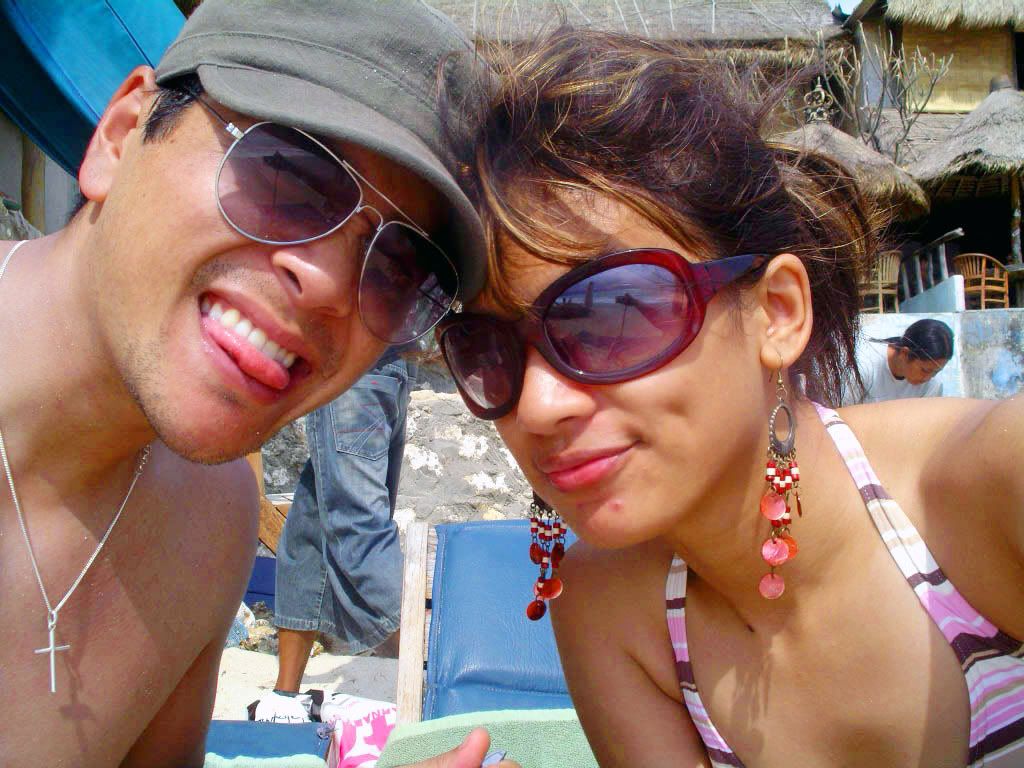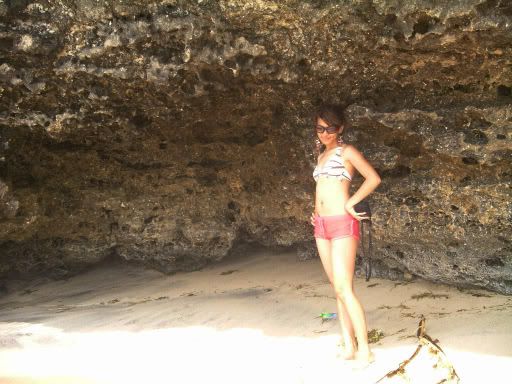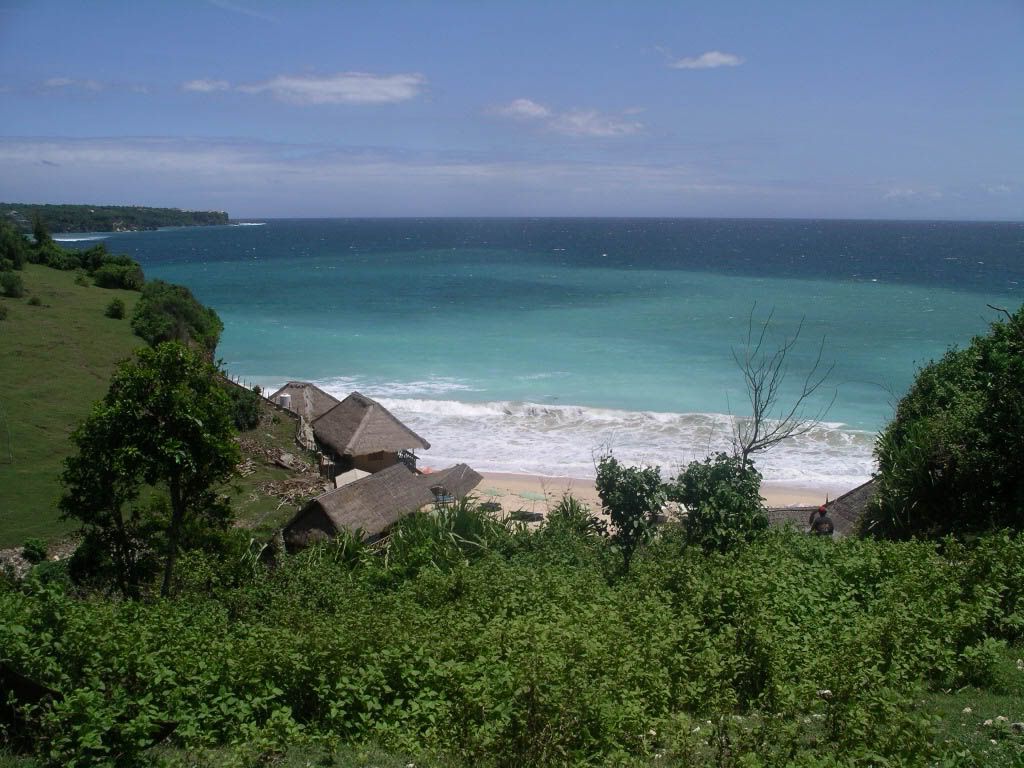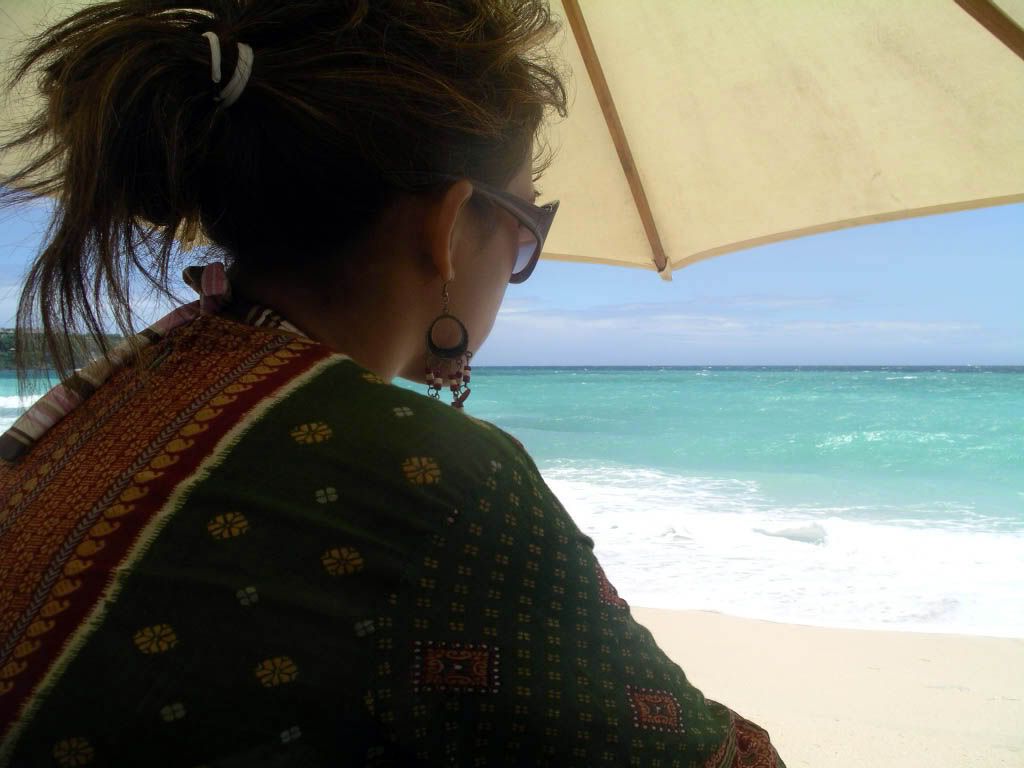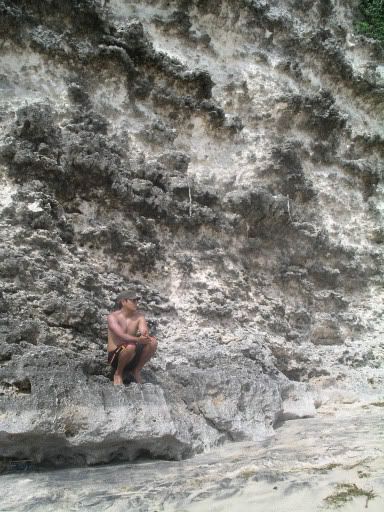 day 4
this day we duno wat to do.. we wanted to go to see dolphins, but dey said its at lovina or nusa penida, lovina is like 2-3 hrs drive and nusa penida is another island which we can only get there by tour, so forget those options, maybe next tym.. n dey said we have to go there in da morning cuz dolphins shows up mostly in da morning or sumthin like that.. so we went to kudeta again, swim on da beach, swim at our pool then shoppin then back home then dinner at rumours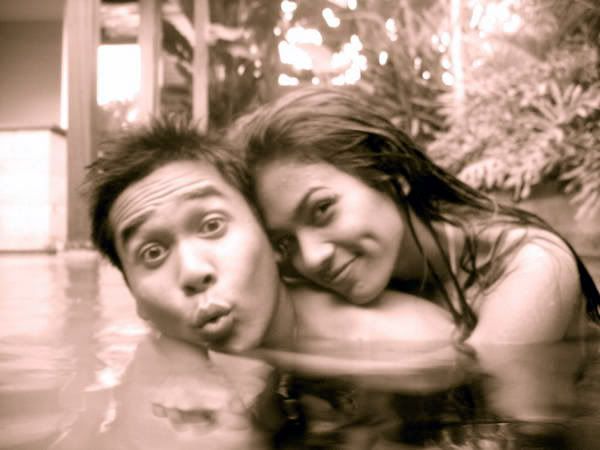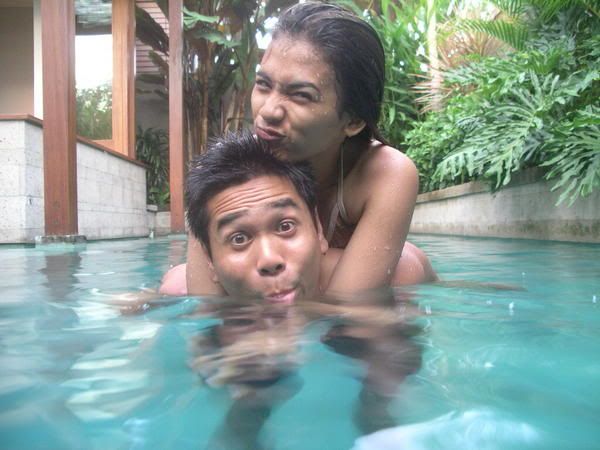 day 5
had bfast at rush bamboo.. packin and off to jkt to attend
SNEAKER PIMPS!!
(i'll tell u about it later)
so overall.. Bali was reaaaaaaallyy greatttttt.. its my best bali trip of all.. i had sum bad bali trip experiences(well not all of it was bad, but sum.. but most of it i went w da wrong 'person'), was afraid to go there w him, cuz dey say if u go to bali w ur lover or ppl u like or love or watever.. its bad luck, u'll end up breakin up.. he once said 'we can change that, can we' n he did.. he changed that.. cuz this bali trip was off da chain..
it was just so good bein w him, it was really nice havin him hold me and vice versa.. loveeeeee his hugs, love jokin around w him, loveeeeeeee kissin him, love talkin to him, ders always things to talk bout, i really enjoy talkin w him bout us, bout things bout life, anythin or everything or nuttin.. watever that is.. we can talk for hours, till morning.. i can stay all day n nite talkin, cuddling, watchin movies 2gether and all that.. i just love everything to do w him.. love his silly acts.. his farts (omg he farts so much!! HAHAHAHA).. he's so sweet.. wat matters is he's as sweet as i want in a guy.. itsss sooooo good havin a lover that appreciates you as much as u want to be appreciated.. he makes me feel special.. yea yea yea and all that im gona stop now :P (HAHAH i kno, u guys musta think im so detail.. yea i am) but damn.. ur such a spender babe..
rick lovessss bali.. he's plannin to build a house in bali for us in da future n live there.. cuz mannn i dont wanna raise my kids in jkt.. i duno bout the education in bali.. i'll find out later. yup yup wud love to live there w u, nabung nabung nabunggggggg mulai skrg!! well mulai g kerja di emirates nanti siy hehehehe
the rest 2days he stayed in my house at ciputat.. stayed in my room n im at moms.. wish i cud stay in mine too.. damn it hahahahahhaha. watched wuysang play on aspac vs SM.. w uti, azhang, my baby and of course wuysang's wifey.. eventho aspac lost on da game.. (da fookin coach played mario like an on and off button -ok go, ok stop-, didnt even let mario feel his rhythm, dats wat rick said) but im not worried, aspac will win the IBL for sure.. go boyyyyyyy.. go mario gooooooooo!!!!! DEFENSEEE!!!!!! go aspacccccccc heheheheheh.. after the game we had dinner at shangrila w da team.. and then home.. then the last day we had lunch w mario n virny at hard rock cafe.. then met up w doyz, having frontline production meeting.. then off to airport..
u kno wat? its just nice havin my parents and us watchin tv together.. havin mom preparing food n tellin us to eat like as if he's a member of our fam already.. as if she's known rick for a long tym.. repot bgt gt.. hehehe.. seneng aja rasanya.. duno y, im not even hesitant to hug him or bein manja to him infront of mom.. pokoknya g comfortable banget aja sm keadaan itu.. love it! walaupun g jadi suka ribet sendiri krn sumtyms i think she's too much.. i remember rick told me that mom bein repot like that cuz mom wants to make me happy.. all she does is bcuz of me, she knows makin rick feel at home will make me happy. ya pokoknya gt2lah.. i think she never seen me this happy kl ya, well she knows what ive been thru without havin me tellin her all the stories, mom just so happy i finally meet my ryt guy not just mr. ryt now and above all is he's christian.. da bonus is rick bein batak too.. God hears her prayers and mine and rick's too. amin(ya babe?)
SNEAKER PIMPS!!
and these are
PICS of SNEAKER PIMPS
this exhibiton was awesome..!! sick.. who brought it up are WHATNOT who held
MEDIUM RARE
,
FOOTURAMA
,
TEMBOK BOMBER
and Sneaker Pimps itself
this exhibition was sick.. was mad packed.. 10.000 people in and out.. da largest sneaker pimps exhibition in da world.. broke the record mannnnn!!!! der was skate live show, bboy chyper.. most importantly was live installation from futura, ewok one and sabotage.. which are live bombing and live shoes customizing. da arts, da sneakers, i love the decoration.. i give MAD MAD PROPS to whatnot(especially adi.. thanks for da invits man!), footurama, tembok bomber who made it all happen.. if dey didnt kno how to organize shit.. it wudnt have worked. it was a success..!! big success.. from medium rare to sneaker pimps.. keep it up.. big ups!!!